Last nigiht was quite a crazy mashup of gigs I could potentially go, M. Ward was playing, Fleet Foxes were playing and some other bands I liked were playing. I opted for Rachael Yamagata because she kept appearing in my Last.fm recommended and I'll be seeing M. Ward tonight anyway. I came out the venue really enjoying her show, it was a fun and relaxing night.
The venue side of it however wasn't, (I'll make this a quick rant) when the gig listing says doors open at 7pm, you'd expect you can get into the venue, stand in a fancy spot and wait for the band to arrive, unfortunately the folks at Water Rats like to do it their way. there was a "No Entry. Sound check in progress" sign blocking our entry to the main venue. We were all stuck in the bar area impatiently waiting for them to open up.
I was hoping it would be a short wait and that they were genuinely doing a soundcheck (occasionally peering through the windows to see the support band wondering around with their guitars), but after that, nothing. The stage was empty and I saw no purpose of why they couldn't let us in already.
There were a few n00bs who thought it was a good idea to stick their head inside the venue and one who even n00bishly poked his camera through the doors to take photos of an empty stage only to enrage the venue guy. Not that he was in our good books anyway. The wait went on from 7pm till 8.30pm where the support band started. The whole wait was completely unneccessary and gives me bad vibes for venturing into this venue in the future.
Anyway, the support band played bang on time at 8.30pm, they joked about how we weren't bothered about watching football (I didn't even know what big game was going on quite frankly). They were fun to listen to and played 5-6 songs. Around this stage the venue was getting kinda stuffy, and BOOM, air conditioners aaah (that was nice!)
The stage was pretty tiny for the band but nonetheless they managed to fit in. Rachael Yamagata came out on stage and played quite a few tracks from her latest album Elephants… Teeth Sinking into Heart. She started off with Elephants which was blissful and sweet. She played Be Be Your Love which won everyone's hearts and began talking about her songs, most of which are about relationships.
She was constantly joking with the audience, mentioning the abundance of folks with compact cameras (she didn't say compact but there were loads of them) and how she wants to see them all on youtube. It made me wonder about whether bands do go on youtube after a gig and check their own gig out (because you can't really see it in the crowd POV being sat there).
She finished with Reason why. Here's a video of it in action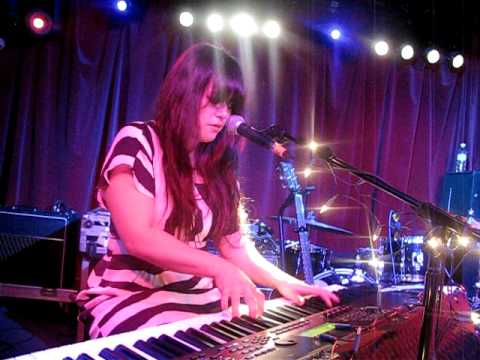 Was definitely happy that I saw her live and will catch her again when she's touring again (BUT NOT AT WATER RATS).