01 Mar
posted by crazybobbles
filed in music
March 1st 2006 was an epic day for musewiki, being launched and everything. Now it's been 2 years and we can see tremendous amount of growth from our friendly editable fansite with the 3000 odd people visiting the site to over 40,000. So yeah let's recap on some highlights of the year:
We would like to again welcome two new sysops into the team, 7 and Susurr0. Their hard work on the wiki won't go unnoticed so the promotion was a must, thanks once again for keeping the place clean. Of course let's not forget Tene, our musewiki big brother. He definitely knows his stuff (was going to use another s word but I'll keep the vocab clean) and is another key player in the community.
Of course everyone else who's worked on the wiki should deserve a pat on the back, the wiki wouldnt survive without such a big fanbase to keep the place in tip top shape.
We've had some new extensions installed on the wiki as well as more style upgrades to the wiki, we're hoping to ensure that our site becomes more distinguishable with other wiki's as well making the information easier to read (and pretty, who could forget pretty?).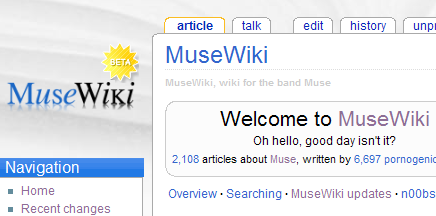 I am also happy that our news is now published through my blog crazybobbles.org. It means I don't need to deal with finding an easy way of clearing the current place up. Not only will there be updates on the site but also articles about the band or the muse commnuity, I think there needs to be more blogs and articles related to Muse that offer a more opinionated point of view, no other fansites seem to be allowing users to submit their own non-news articles, it's all facts and news. So yeah, I'm pushing on getting some people to start publishing articles on the site and use the momentum of crazybobbles.org to allow users to read it. I think it will definitely work since quite a lot of success was made on crazybobbles.org from articles such as 4th album theory by Max and the legend that is the Matt sex face. So yeah, if you feel like publishing articles similar to 4th album theory or my recent articles about Royal Albert Hall, then start sending me stuff to publish, you'll get full credit and editorial rights to the blog if you have more articles that are interesting to read.
So what stuff can we see this year? Well what do you want folks? Feel free to post comments on future changes to the wiki and hopefully I can roll out stuff that's feasible. I'm hoping to overhaul certain places to ensure everything is easier to read. I might get that damn logo sorted once and for all and I might look into getting a forum setup, granted the idea of a forum might end up in an epic fail since the official board is the best forum out there still, but yeah, just an idea. You're more than welcome to suggest some
So yeah, thank you once again for making Musewiki the most awesome site there is for Muse and we'll hope you'll enjoy you stay, it's good to have you with us, even if it's just for the day (oh yes I went there)
On another note, I've also upgraded the wiki to the latest version, no significant changes I'm afraid just some bug fixes and whatnot.