I've been pumped to see Emmy the Great play a full on set for quite a bit and now that evening has happened and I can safely say, it was, as Tony would say, GREEEEEEEEEEEEAT (man that doesn't get old… i think, though I do have cravings for frosties now).I met up with Anika outside the venue and discussed about the likes of Ane Brun's amazing gig and whether or not Emmy is "The Rock approved" (turns out she's not :(). The supports were Young Husband and Ex Lovers. I quite liked Ex Lovers. The lights however blinded me throughout the set which was a bit annoying.
This photo is a bit different than your normal gig photos (ie drawing attention away from the face and into the actual instrument). I promised on flickr to do more of this stuff so yeah
There was too much backlight for them and it made me wish i had a lens hood for the show (I suppose hands will do for now).
I found a funny sign whilst wondering around the venue (and finding the bathroom which was located outside where the security folks at the door are). It's fun when people botch up spellings and whatnot on sigs. So yeah, venue not fairing too well in that front I must say.
Anyway, on with Emmy's show. She appeared on stage and joked about her entrance (ie just walking in without much build up hehe). She started off with Easter Parade and then on you could see people all around dancing to her sweet glacial voice. She then played We almost had a baby (jesus) which was more upbeat and catchy due to the full backing band.
Everything sounds more full on though on the acoustic side of things, we were probably too close to the stage and the monitors kinda drowned up Emmy's voice now and then, I think the trip to union chapel made me more snobby in terms of how things should sound (so Emmy if you're reading this, play at St Giles or Union Chapel, it'll be lovely with your voice ;)).
Emmy played most of the songs from her latest album First Love including First Love, War, Mia, City Song and Dylan. She also threw in a few track unreleased tracks at the encore including Two Steps Forwards, here's a video of it in action: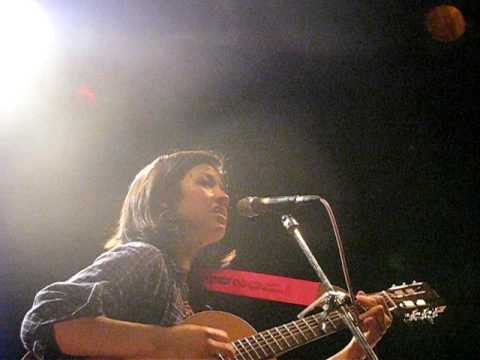 I have a few more videos so subscribe to my youtube channel if you wanna see them, including her cover of End of the World.
The show was about 45 minutes long and they were able to cram in 3 tracks for encore (unfortunately not doing secret circus even though we did scream it out loud for quite a bit at the front, Adam wasn't happy hehe). That was about it, me and Anika then had a sneaky meal before parting ways for the land of home/nod. If you didn't get to catch Emmy playing tonight you might wanna pop by at Rough Trade and see her do a live instore!